Avoid the Restaurant Manager's Nightmare
Affordable and Effective Pest Elimination in the Corona and Ontario Areas. Including Los Angeles, San Bernardino, Riverside, and Orange County.
Ever had a roach—or worse, a rodent—appear in a busy dining area?
Even a one-time appearance can spook a houseful of customers from ever returning. And as you know, if you're ever shut down due to pests, many municipalities print your restaurant's name in the newspaper for all to see.
We at Academy are specialists in keeping those nightmare scenarios from occurring. We specialize in pest ELIMINATION not just control. Our motto is "no pest left behind" and we observe it with every service call we make.
Our technicians are extensively trained in both commercial and residential service. Plus we offer 24/7 service when you need a pest issue dealt with ASAP! For further protection a recurring monthly service plan will keep you from any pest problems.
When you hire The Academy, you can be confident that you are receiving the service that you expect, from the pest control experts you know and trust.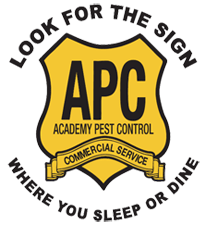 Your assurance of a safe, Pest free environment